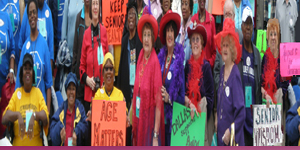 ---
A Medicare beneficiary and member of a Medicare Advantage plan recently had knee surgery. He received physical therapy for two months and later joined another Medicare plan. His first Medicare plan refused to pay for the treatment because he was no longer a member of their plan and billed him for $7,000.00. The doctors refused to continue his physical therapy until he paid the bill. Client contacted the Benefits Counseling Program and received help with the appeal process from a benefits counselor. The appeal was ignored; bills kept arriving. The counselor contacted the Medicare Advantage Plan to discuss non-payment of the bill. The plan agreed that the bill should have been paid. A week later, client called the benefits counselor to report the bill was paid in full. It does pay to ask for assistance when you need it.
Introduction
If you're 60+ or a caregiver for a senior, the Dallas Area Agency on Aging can assist you with help you need, whether it be meals or other kinds of assistance. The goal is to help seniors live independently for as long as possible.
Senior Population Grows
The actual number of seniors in the United States grew from 3.1 million in 1900 to 33.2 million in 1994. This number is expected to more than double by the middle of the next century, to 80 million people. By 2030, about one out of every five Americans, or 20 percent of our population, will be a senior citizen.
According to the 2009 U. S. Census Bureau Population estimates, the number of persons 60+ in Dallas County is 304,519. Population projections provided by the Texas Department of Aging and Disability Services estimate a 19.5 percent increase in this group, bringing the total to 364,095 in 2019. These numbers represent a challenge for the Community Council of Greater Dallas and the Dallas Area Agency on Aging.